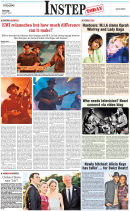 Noori brothers Ali Noor and Ali Hamza are all over the place. As Coke Studio comes to an end, the brothers are back to the studio, working on their third studio album. And their interaction with fans continues with consistent videos from the band.
In a new video blog released by Noori, they give a sneak preview of a tune, 'Hey Ya' as they jam with drummer Salman Albert. Ali Hamza flirts with his bass guitar while Ali Noor creates a skillful riff and the three men sketch musical ideas out, jamming together…
It's an inside look into the very basics of how melodies, riffs and sounds come together for a song. A rough jam where grooves and ideas come together in an unique fashion.
This v-log comes right after another v-log which the bad posted on their website a few days ago, dismissing stories about album name, and give a tour of their personal studio where jams have begun for the new record.
Ali Hamza clears the air about the album names and states the album is not called Rahi Yahan Kay or Begum Gul Baqoli Sarfarosh.
A few days prior to this video log, Noori released another video blog, after fans didn't react too positively to Noori's 'Tann Dolay' with Zeb and Haniya on Coke Studio. Since then, the band's released the audio to the song, 'Tann Dolay' – the studio version – that does feature Zeb and Haniya. Though it differs from the Coke Studio version, it is signature Noori. Not too noteworthy but if the few seconds of 'Hey Ya' are anything to go by, Noori are getting set for one hell of a rock 'n' roll ride with funkier grooves and a remarkable spirit.