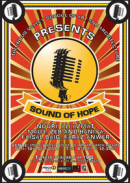 If Coke Studio wasn't enough… The old timers are getting together again to create another collaborative performance:
SOUND OF HOPE
Date: Sunday, 17th October, 2010
Time: 8:30pm - 12:30am
Venue: Indus Valley School of Art and Architecture, Karachi
Details:
In times like these where it calls for belief in ones self and each other, the IVS Student' Council 2010 and Rahnuma brings to you the 'SOUND OF HOPE' featuring:
-Noori -Zeb and Haniya -Mauj -Ali Azmat -Faisal Baig -Faraz Anwer -Gumby -Mannu -Sami Shah
1. Tickets are available at Nando's - (Boat Basin and Sindhi Muslim) &
IVS campus -For Directions to the IVS campus : http://www.indusvalley.edu.pk/contact.html
2. LIMITED TICKETS AVAILABLE ONLY on first come first serve basis.
(More than half of the tickets have been sold already, please get
yours ASAP)
3. Outsiders are welcome.
Ticket price: Rs.1000 ( For Alumni, Faculty and Outsiders)
Current IVS Student Ticket price: Rs. 600
(this ticket will not be valid for any person not enrolled currently and will be void)
Our Official Radio Partners:
1. Radio FM 91
2. Radio FM 89
For student tickets please contact Varah Musavvir (3rd Year Textile), Anushay Furqan (2nd Year CD) and Maliha Burney (Foundation Year).
For details contact
[email protected]
Affan Adil Khan
0333-3131609
Dabeer Hemani
0333-3972676
For Directions to the IVS campus
http://www.indusvalley.edu.pk/contact.html