of Cornetto Pop Rock, Noori has teamed up with one of music's most gifted names, Quratulain Balouch for the song 'Pyar
Wyar'. Not surprisingly, the song has amassed over 2 million hits since its release.
Currently sizzling on Coke Studio 9 as music directors,
Noori give fans exactly what they promised with BIY Music.
You have to tip your hat to Noori, one of Pakistan's most cherished music outfits, for not only making a strong comeback last year (with a new studio album) but for doing so in a way that it is slowly making up for all those years when we went without a Noori single.
It is a vigorous return that began in 2015 with 'Aik Tha Badshah' and the record, Begum Gul Bakaoli Sarfarosh, beautifully spilled into 2016 and will be remembered for years to come since Noori seem in no mood to slow down.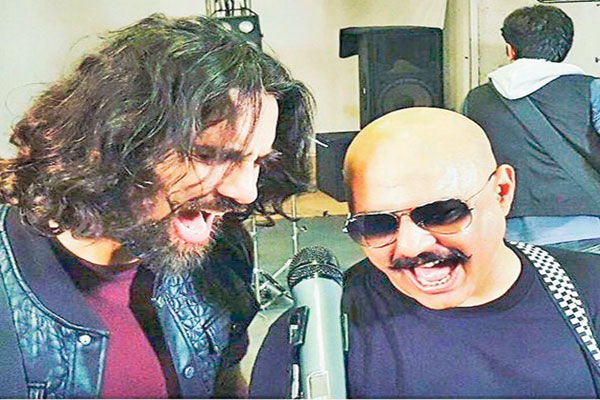 In the coming days ahead, Noori and Ali Azmat, as part of Cornetto Pop Rock, will release their collaborative single, 'Dildara'. The great news here is that its going to be an original song.
A spanking music video ('Pinjra'), a cross-border collaboration ('Yaarian' with Hari and Sukhmani) that doesn't play up hate values - seen in supreme form during India-Pakistan cricket matches and on political talk shows - and instead speaks of friendship and tolerance is how Noori began the year but that's not how they plan to end it.
Having picked up the Lux Style Award for Best Music Album just last month, which has simply strengthened their resolve, Noori's wearing many hats and are shining in each role as brightly as the next.   While Coke Studio 9 has brought their musical capabilities front and center (more on that later), it's the birth of BIY Music and the band's association with the first season of Cornetto Pop Rock that is just as important to discuss as their CS stint.
BIY Music – Believe in Yourself – a motto by which Noori brothers Ali Noor and Ali Hamza lead their lives and one they wish to pass on to the industry and their many, many fans, is an initiative that is meant to promote the cause of original music. It is meant to push artists to create their own records, write their own songs and push their own limitations.
On BIY Music's official Facebook page, launched in 2016, Noori explained the ideology behind this initiative and wrote, "Based on the ideology of Believe in Yourself to Do it Yourself, we encourage serious artist across different genres to craft original music and learn the art and technique of live performances within a creative environment under the supervision and in collaboration with renowned and experienced musicians of the industry."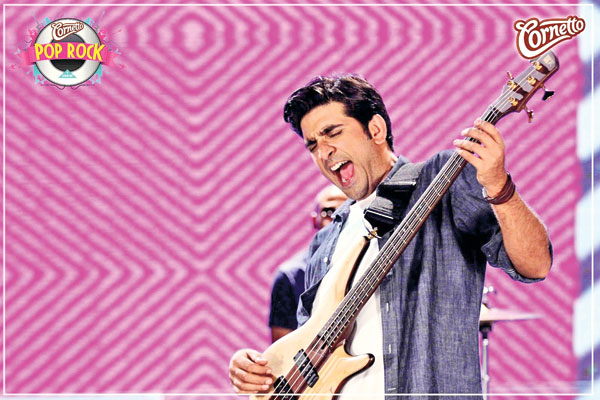 Rock the Casbah: Ali Hamza doing his thing with the bass.
The good news is that its not just talk. Under the BIY Music banner and as part of the music initiative Cornetto Pop Rock, the group has teamed up with one of music's most gifted names, Quratulain Balouch and has collaborated on the song 'Pyar Wyar', which has amassed over 2 million hits since its release. The funk-rock laden track, as well as the psychedelic music video will remind you of the lost glorious days of music when videos released with regularity.
The thing to remember here is that it's a song QB wrote herself with encouragement/guidance by Noori. Despite initial trepidation, she took the plunge and emerged victorious because 'Pyar Wyar' a thumping rock ditty, aside from the not-so-subtle branding, is charming. Most importantly, it's unlike any other QB song and is as different from her claim-to-fame effort, 'Humsafar' as possible. It showcases the singer in a never-before-seen light. And as Ali Noor joins QB past the halfway mark on the song, you have to applaud Noori for pushing so hard the cause of original music.
It's a common story now that original music is coming from either film quarters, which can be good (Dekh Magar Pyar Se, Karachi Se Lahore), great (Moor, Manto) or bad (everything else really) or from breathtaking independent artists (Khumariyaan, Nawksh, SlowSpin, Adil Omar, Talal Qureshi, Shajie Hassan and many, many others).
But with Noori's resurgence and success, others from mainstream could draw inspiration and just might follow suit. Should that happen, the mission of BIY Music will be accomplished.
In the meantime, the coming days ahead will see Noori team-up with the god of rock, Ali Azmat and the result of it, well, let's just say we can hardly wait. If the images coming from the BIY studio in Lahore on Instagram and other digital formats are anything to go by, this collaboration could surpass all others in recent memory and maybe even the classic Noori single, 'Ooncha Hoon Mein' on which Azmat made a small but deeply memorable appearance many moons ago.
Published in The News, August 23rd, 2016.