LAHORE: Rock band Noori may have declared Begum Gul Bakaoli Sarfarosh as their final release but it seems the duo of Ali Hamza and Ali Noor believes in the notion that promises really are meant to be broken. Their fans would certainly not complain hearing that the band is set to release a single that will see them collaborate with Indian folktronica duo, Hari and Sukhmani.
The two bands have interestingly been at the project for two good years. The track, Yaarian, is an ode to friendship, celebrating the cultural bond shared by the two countries. March 11 has been earmarked as its release date. The brothers are known for making music that is very personal and of their own element and have seldom teamed up with other acts to produce music. "There are quite a few people whose music I listen to but their [Hari and Sukhmani's] music really appealed to me … there was a spark," Noor told The Express Tribune. He said the Indian band has a very different approach to music but they somehow managed to form a working relationship. "They're different from us but it all worked out because we made the song on drums and bass and they put the finishing touches. I think we managed to retain the essence of both the collaborators."

Noor's wife and veritable right hand, Mandana Zaidi, concurred. "Sukhmani's voice added a great flavour because I've never heard a woman's voice in a Noori song before," she said. Zaidi said the entire process was carried out without the support of anyone. "It was just an effort from the artists involved," she said. Noori is a group that itself believes in the DIY philosophy; they released an album at a time when the music industry is probably at its weakest. When they first met vocalist Sukhmani Malik and producer-vocalist Hari Singh in Dallas, US, they immediately struck a chord. "We heard their music and decided to fly to India. Once we were there, we agreed to work on a song. The song was sent back and forth and eventually they came to Pakistan for five days to shoot the video," Zaidi added.
Separately, Noori will be flying to India for the Nations for Peace concert that will also be held on March 11. Nations for Peace will feature musicians from Bangladesh, Bhutan, Nepal, Sri Lanka, India and Pakistan come together. Yaarian will be officially released during the show. After this, a tour of different cities in Pakistan is also on the cards for the Lahore-based band.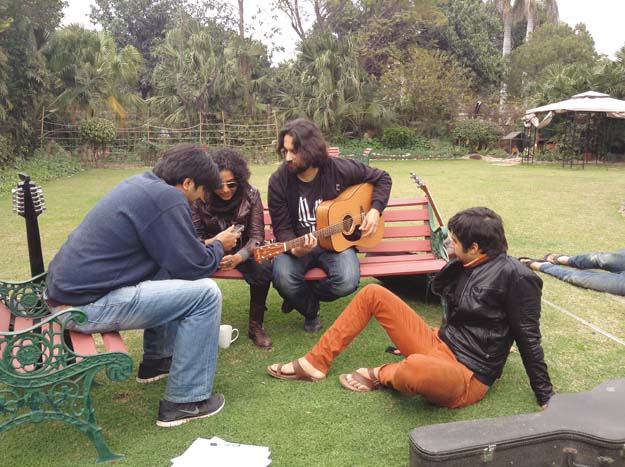 Interestingly, this is not the first time Noori is working with an international act. In 2004, they collaborated with Indian musician, Anaida, for a single but the song never saw the light of the day. The band that has joined hands with various artists on Coke Studio in the past, feels as long as original music is being made, all is well. "People should explore their creativity and make songs about issues that something to them," mentioned Noor.
Drawing a distinction between music shows and independent releases, he said, "Coke Studio and Nescafé Basement produce commissioned songs that have to be done for the project. We should make songs to further the art form because that is how it has always been done … that is how it should be done." Noor said the band will also be working with Haroon from SYMT, Ali Azmat and other artists over the course of the year. "Right now I am learning how to collaborate and put out songs that aren't just Noori-esque. The idea is to learn as well as integrate other artist's sensibilities into our music but it's a learning process primarly."
Malik and Singh have been globetrotting since 2009 and collaborating with artists all over the world. Known for fusing Punjabi folk music with electronica, they a very contemporary take on traditional music. "The band's motto is to leave behind cultural, religious, and racial divides to transform the community and the individual through happy soulful music," reads their website.
Published in The Express Tribune, March 8th, 2016.