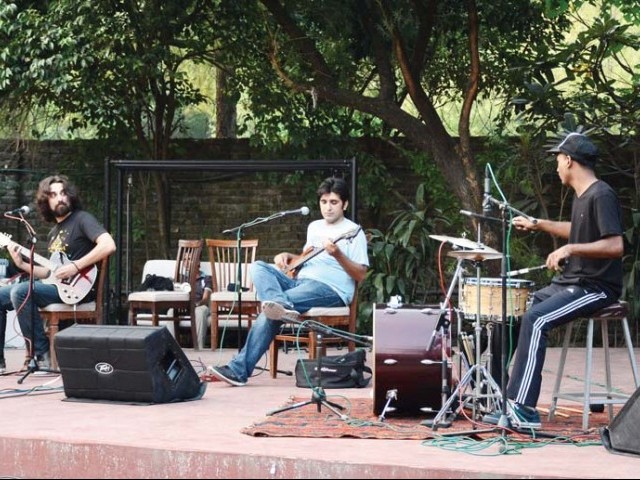 ISLAMABAD: Veteran rock band Noori treated fans of the capital to singles from their new album 'Begum Gul Bakaoli Sarfarosh' at a preview show hosted by Kuch Khaas.
The album marks the band's third foray into music after their 2003 debut album 'Suno Ke Mein Hoon Jawaan' and 2005's 'Peeli Patti Aur Raja Jaani'.
Noori has already performed a preview show for Begum Gul Bakaoli Sarfarosh in Lahore, and plans to perform in Karachi.
Invites are open to exactly 111 people in all three cities, as the band wants to connect with their fans on an intimate level. To create an emotional connection with their audience, fans are asked to buy serialised tee shirts, for instance '1 in 333' and so forth, instead of paying for tickets.
The performance at Kuch Khaas on Saturday turned out to be an interactive session, with the band's Ali Noor and Ali Hamza explaining the philosophy behind their latest work.

"Suno Ke Mein Hoon Jawaan was about the optimism and passion that comes with youth. The second album, Peeli Patti Aur Raja Jaani, was melancholic and about a person's fall as a result of reality hitting him. The upcoming album is about conquering oneself and rising from the ashes", Noor explained to fans at the event.
Begum Gul Bakaoli Sarfarosh is a fictional character that crosses the border at the time of the 1947 partition of India, hoping for a better future. All she sees however is people losing their morality. Some 50 years pass, and it is present day. She now understands why people are the way they are. The music provides an understanding of the partition, and works as a catalyst to enable people to move towards change.
The band members spoke about creating a 'Noori family', with the aim of involving youth in their music and working towards their "awakening". The band said their purpose is not just to create music, but to enable the youth to live up to their full potential.
Fans of the band in Islamabad were left pleasantly surprised upon learning of Noori's greater humanitarian endeavours.
The band played tracks such as '1947', 'Aik Tha Badshah', 'Pinjra', 'Sarafarosh' and 'Hoshiyaar' from their new album, set to release on September 30.
The event was organised by Patari.pk, a new local platform working to monetise music through online streaming and live shows.
Read here