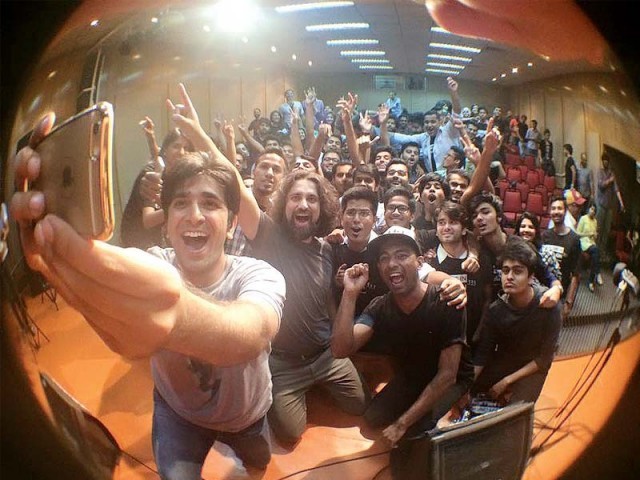 KARACHI: After wrapping up their fourth studio album, Viva la Vida, Coldplay took close to four years to release their next record. Wanting their next album to be "more intimate" than the preceding ones, the band re-evaluated their style of music, and the result was Mylo Xyloto — a concept album about how a fictional city is taken over by a supremacist government and the rebellion that follows.
Noori seems to have followed a similar trail, as they're back as a more evolved band after a 10-year break. Currently on a tour promoting
Begum Gul Bakauli Sarfarosh
(
BGBS
), the two-member band recently held a preview of their next album for a limited audience.

Kicking off their mini-concert with the song Pinjra, lead singer-songwriter Ali Noor talked about the genesis of the track. Describing the song as 'anti-Sufi', he explained that it traverses the reality of how we're all caged by society. "This song is a question about whether it's right or wrong to be driven by our fear of dogma, and if we should live in this perpetual fear," explained Noor.
Read: Noori unveil Aik Tha Badshah
With most tracks on the album dating back to nearly 15 to 20 years, Noor and Hamza shared how their third album is a sincere attempt to reach out to their loyal fan base. In contrast to the music featured on their debut album Suno Ke Main Hon Jawan, which was carefree and pop-oriented, their latest release seems to have a brooding soundtrack, especially with songs such as Aik Tha Badshah and Pinjra.

But the band clarified that even if their previous songs, such as Gana No 1, sounded like peppy numbers, they have a deeper meaning behind them. "Everybody thinks it [Gana No 1] was a fun song that people dance to. But if you listen to its lyrics, you'd realise how dark the song actually is," said Hamza. Describing it as the "most depressing song" he has ever inscribed, Noor shared that it was inspired by a 'vela' guy that the brothers knew. "Not only would he waste his time but ours as well. And when I questioned him about his attitude once, he started crying and said that he considered himself to be completely incompetent," stated Noor.
Read: Do you have any idea what Noori has been up to?
Despite the serious nature of the album, the band has managed to slip in two signature Noori sing-along anthems titled Hey Ya and 1947. Both tracks encapsulate BGBS' central theme of rebirth, revolving around a woman who crosses the border on the eve of 1947 and is devastated after losing everything and everyone during her journey. When she arrives on this side of the border, she hears the announcement of the creation of Pakistan on the radio and feels her pain fade away, foreshadowing a new beginning in her life. BGBS is expected to release on September 30.
Read here